Sheds Images
Click on the shed picture to view a larger version.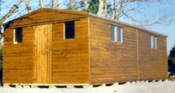 Workshop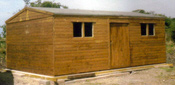 Office
Other Products / Services from MD Sheds
As well as Sheds, Summer Houses and Play Houses, Dog Kennels and Dog Runs, MD Sheds do, on request, make other timber based products including:
workshops;
offices;
chicken runs;
rabbit hutches;
horse Stables;
field shelters;
garden gates;
catteries; and
more.
These are designed and built to your requirements. Just give us a call to discuss your needs.
We are also happy to remove your old sheds.
Prices for Field Shelters and Stables including installation are given below
Field Shelters and Stables (inc. Installation)
Field Shelter 10x10
£1500.00
Field Shelter 10x12
£1600.00
Field Shelter 12x12
£1700.00
Field Shelter 14x12
£1800.00
Stable 12x12
£2600.00
Stable Sheeted 12x12
£3000.00
Call MD Sheds on 077 6315 8129
Cattery