Sheds Images
Click on the shed picture to view a larger version.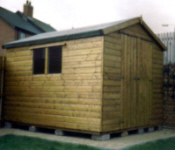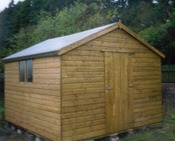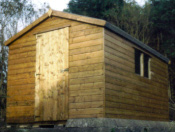 Sheds - Northern Ireland
MD Sheds supply sheds across Northern Ireland. Our prices cover building and installing the sheds and free delivery within a 50 mile radius of Crossgar.
We have a large range of pre-designed Sheds available (see below) or we will build your shed to your specific needs - just give us a call. With quality workmanship, a 1 year guarantee. MD Sheds has what you are looking for.
All our Sheds are treated with Lardec. Lardec is a microprorous long-chain alkyd wood stain and primer. Lardec will not peel nor flake and can be over painted. It has excellent penetration and 'run off' properties and won't obscure the grain.
All sheds include:
Windows;
3 heavy duty galvanised hinges; and
Galvanised pad bolt.
Pricing (including installation)
Size
Normal Floor
Heavy Floor
Shed 6x4
£450.00
Shed 6x6
£520.00
Shed 7x5
£540.00
Shed 8x6
£650.00
£700.00
Shed 10x6
£800.00
£850.00
Shed 8x8
£800.00
£850.00
Shed 10x8
£950.00
£1020.00
Shed 12x8
£1250.00
£1350.00
Shed 10x10
£1250.00
£1350.00
Shed 12x10
£1400.00
£1550.00
Shed 14x10
£1670.00
Shed 16x10
£1800.00
Shed 16x12
£2400.00
Shed 15x10
£1750.00
Shed 20x10
£2900.00
Shed 30x15
£4000.00
Shed 14x16
£2800.00
Shed 24x10
£3200.00
Shed 24x12
£3500.00
Other sizes
Call Us
Call MD Sheds on 077 6315 8129
We will deliver and install sheds across Northern Ireland.
Sheds Northern is also Known as MD Sheds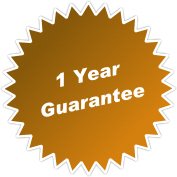 "....really appreciate it. We are very happy with the shed and will be recommending you to our friends. Thanks again"
A & E Massey
"..it is a great job, much appreciated"
Mina